Full moon power exchange
Full moon collective power exchange spell
This amazing opportunity gives you the chance to be drained and sucked from your energy and personal power, every full moon for the rest of your life as youre converted into a real life human stepping stone – The goal? My ever growing ABUNDANCE, POWER, Filthy stinking rich continuously growing fortunes and My compounding beauty which keeps on magnifying!!
This is almost 10 pages of cult like reading which merges real science with the powers of the universe to soak and snuff every last vibration from your energy field leaving you a fully wilted limp being with nothing but drained of your energy reservoir and worth nothing… while I become more and more rich and powerful all from the collective offerings from YOU and all slave participating in this sexy ritual… its the ultimate sacrifice.
Will you offer up your very own protoplasma, your energy, your manhood and allow it to be taken for My world domination?? Learn what your mind and body are capable of while you enjoy ALL this reading which traps and entices you into the vortex… You will be dazzled with my words and before you know it – BOOM – you're in the beam totally magnetized and having My personal energy vampires take your force from you… slowly but surely and give it ALL to Me!
This is not just some quick slave task… this is a sort of cult that will effect you in your mind, cock and energy sources… You will feel real sensations AND you may be active and collectively participate with 100s of other slaves right from your own bed every single full moon… Just imagine having a reason for living, finally… your boring life will now have a HUGE reason for existing
**this is REAL, FUN, AND VERY POWERFUL – dont miss out**
10+ pages of text / $19.99 /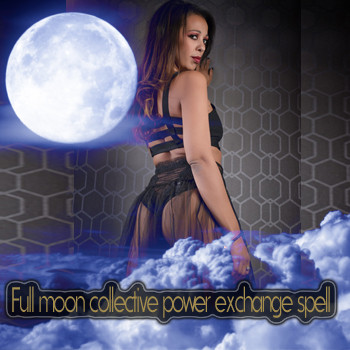 Create REAL MAGIC by My guidance and join the other bewitched zombies who have been woo'd by My vast knowledge of the laws of the universe and my ability to so playfully weave together a master plan to see to My best ever possible reality… all while you dwindle and become even more pathetic… become a stepping stone NOW – join the cult. Dedicate your full moons to this magic spell and forever be an entranced transmitting slave under My evil irresistible spell now!
approximately 10+ pages of reading with perfect descriptions of how to exchange power under the full moon
if you like this, you may also like...